Curs Fonaments per a la transformació social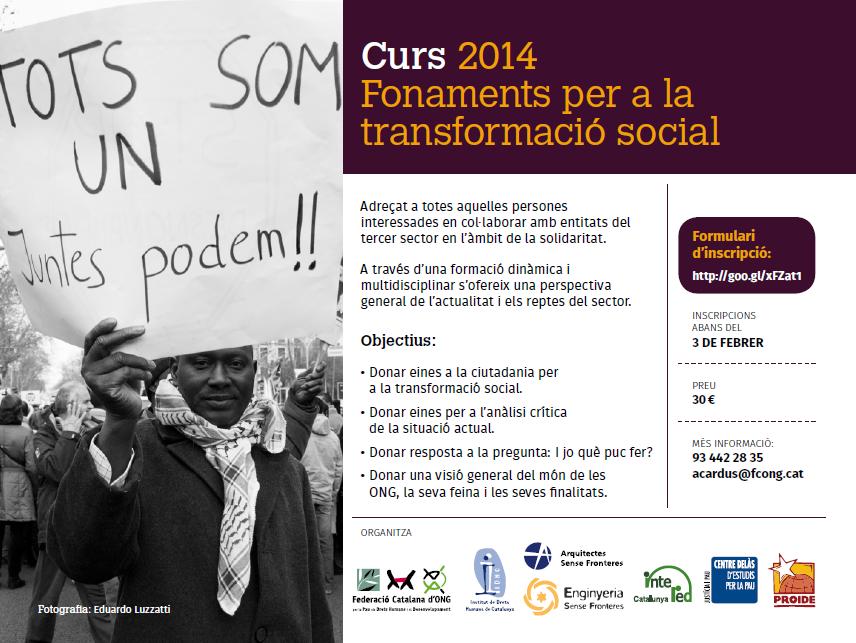 8 February, 2014
---
---
Organizes:
Centre Delas, Federació catalana d'ONG, Arquitectes sense frenteres
---
Type of event:
Courses and seminars
---
Curs Fonaments per a la transformació social
Confederació Catalana d'ONG per la Pau, els Drets Humans i el Desenvolupament
Del 8 de febrer al 15 de març de 2014
Descarrega't aquí el programa. Consulta els detalls d'inscripció.
Curs coorganitzat pel Centre Delàs d'Estudis per la Pau.
Adreçat a totes aquelles persones interessades en col·laborar amb entitats del tercer sector en l'àmbit de la solidaritat.
A través d'una formació dinàmica i multidisciplinar s'ofereix una perspectiva general de l'actualitat i els reptes del sector.
Objectius:
• Donar eines a la ciutadania per a la transformació social.
• Donar eines per a l'anàlisi crítica de la situació actual.
• Donar resposta a la pregunta: I jo què puc fer?
• Donar una visió general del món de les ONG, la seva feina i les seves finalitats.
Consulta el programa complert del curs.
---