Formació per a activistes de la Campanya Banca Armada – Barcelona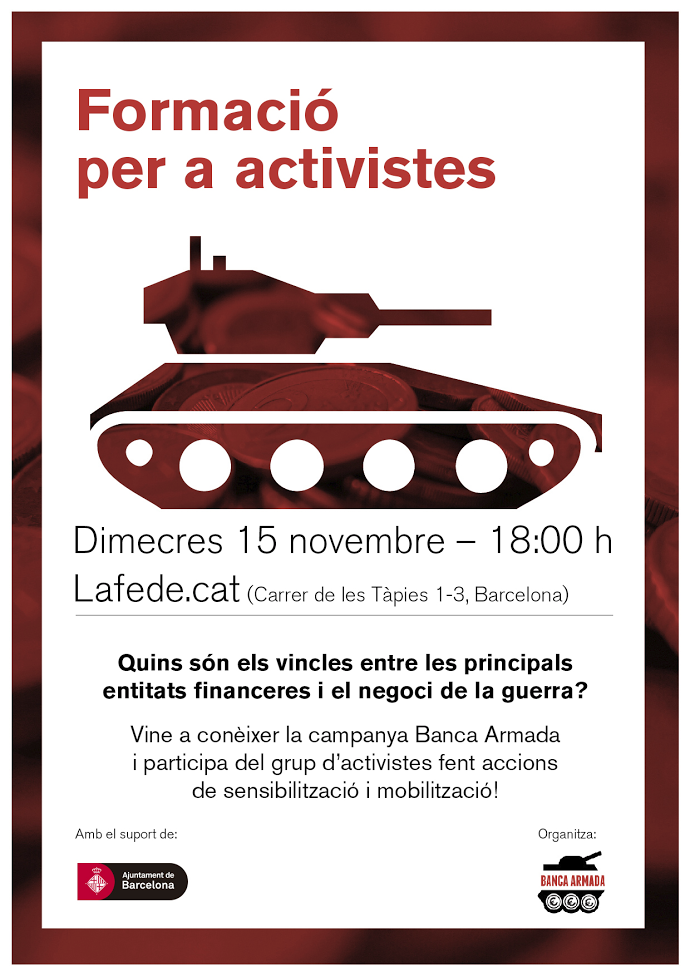 15 November, 2017
---
Where:
LaFede.cat (carrer Tàpies, 3 Barcelona)
---
Organizes:
Campanya Banca Armada
---
Type of event:
Courses and seminars
---
"Quins són els vincles entre les principals entitats financeres i el negoci de la guerra?", aquest serà l'eix de treball de la sessió formativa per a noves activistes de la campanya Banca Armada que tindrà lloc a les 18:00 hores el proper dimecres 15 de novembre a Lafede.cat. La sessió donarà a coneixer la campanya Banca Armada i fomentarà la participació al grup d'activistes fent accions de sensibilització i mobilització de denuncia del finançament per part de les entitats bancàries a les empreses armamentístiques.
La campanya Banca Armada té l'objectiu de denunciar públicament les institucions bancàries que financien la indústria militar, per aconseguir una base social sensibilitzada i exigir unes polítiques ètiques i responsables a nivell polític, social i mediambiental. El Centre d'Estudis per la Pau JM Delàs, SETEM, Col·lectiu Rets, Justícia i Pau, l'Observatori del Deute en la Globalització (ODG), FETS i Assemblea Antimilitarista-MOC, són les entitats impulsores d'aquesta campanya.
Dia i hora: Dimecres 15 de novembre de 2017 a les 18:00 hores.
Lloc: LaFede.cat (carrer Tàpies, 3 Barcelona)
Organitza: Campanya Banca Armada
Més informació: http://www.bancaarmada.org/ca/activitats/conferencies-i-tallers/627-formacio-per-a-noves-activistes-de-la-campanya-banca-armada
---
Més informació aqui
---