IPB Youth Network Conference: Transform! Towards a Culture of Peace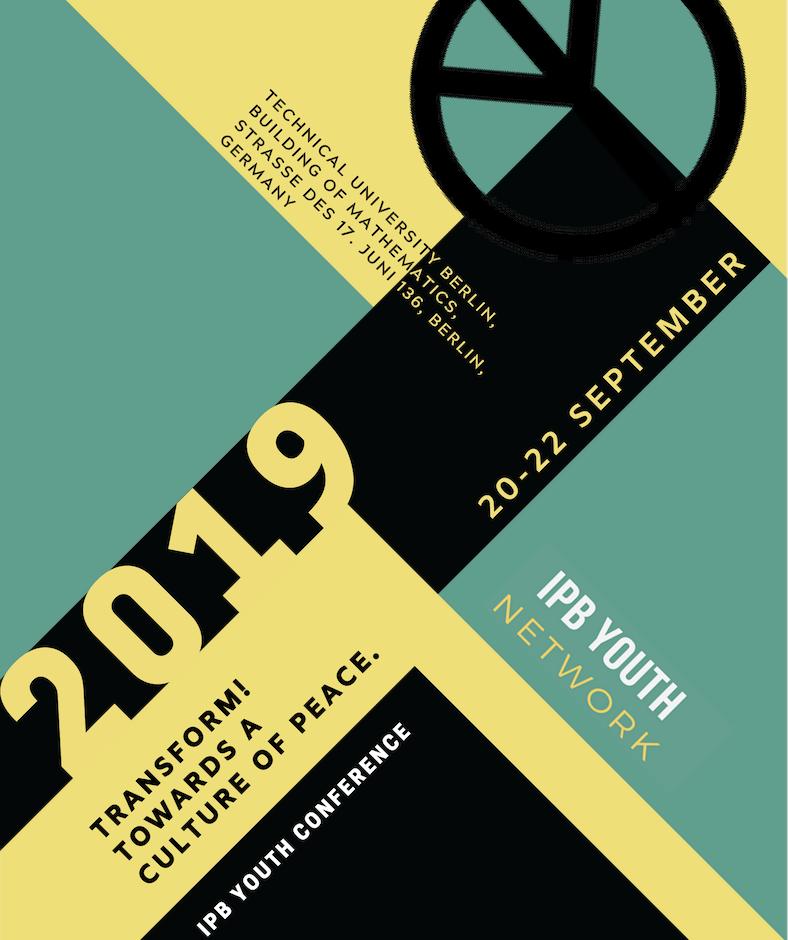 20190920
---
Where:
Technical University Berlin, Building of Mathematics, Strasse des 17. Juni 136, Berlin, Germany
---
Organizes:
IPB Youth Network, IPB junto a ITUC e ITUC Youth
---
Type of event:
Talks
---
El IPB Youth, la sección de jóvenes activistas del International Peace Bureau (IPB), organizan la IPB Youth Conference 2019 el próximo mes de septiembre en Berlin. El encuentro internacional de jóvenes, bajo el título de "Transform! Towards a peace culture" (Transforma! Hacia una cultura de paz) quiere trabajar estratégias conjuntas para caminar hacia un mundo más pacífico, justo y sostenible.
El objetivo global del World Youth Congress es construir puentes y dar lugar a debates entre la juventud con perspectivas diferentes y aproximaciones a la paz, justicia y sostenibilidad de lado con actores no juveniles activos en el movimiento de paz y en los diversos campos. Voces de juventud contra guerra y por la paz tendría que ser cada vez más y fuertemente sentido. Entre otros, los objetivos concretos son:
1. Para denunciar y actuar contra la guerra, el militarismo, la injusticia, y la destrucción planetaria.
2. Para dotar a las personas jóvenes de la confianza y las competencias necesarias para construir paz, sostenibilidad y justicia.
3. Para introducir a las jóvenes en los procesos de toma de decisión nacionales, regionales e internacionales.
4. Para facilitar un abordage intergenerational e interdisciplinario a una cultura global de paz, justicia y sostenibilidad.
Fecha: Del viernes 20 al domingo 22 de septiembre de 2019.
Lugar: Technical University Berlin, Building of Mathematics, Strasse des 17. Juni 136, Berlin, Germany
Organiza: IPB Youth Network, IPB junto a ITUC e ITUC Youth
Con el apoyo de: DFG-VK, International Network of Engineers and Scientists for Global Responsibility (INES), Rosa Luxemburg Stiftung, Hans-Böckler-Stiftung (tbc)
---