IV Seminari del Centre Delàs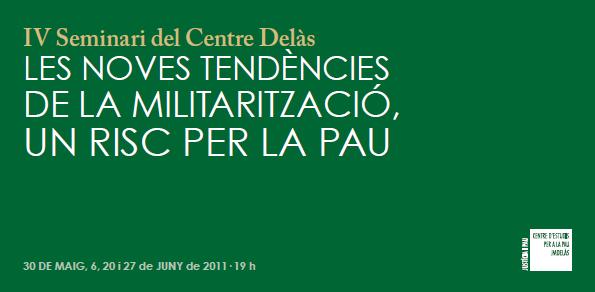 15 May, 2012
---
Where:
Rivadeneyra 6, 3 pis Barcelona
---
Organizes:
Centre Delàs – Justícia i Pau
---
Type of event:
Courses and seminars
---
IV Seminari del Centre Delàs
Les noves tendències de la militarització, un risc per la pau
Comprendre les noves tendències en la militarització al món és comprendre una de les potes fonamentals pel sosteniment i expansió de la globalització. Identificar-les en ajuda a saber de quina manera treballar contra la militarització. Amb aquest seminari es va treballar, durant quatre sessions, el cicle econòmic-militar mundial, la privatizació de la guerra, el nou paradigma de Seguretat Nacional, anomenat Homeland Security, i el paper, característiques i objectius de les interencions militars a l'exterior. A cada sessió va haver-hi una presentació inicial per una persona experta en la matèria i un posterior debat i reflexió conjunta.
Descarrega't el díptic del programa.
Descarrega't o visiona els videos del seminari:
1) El cicle econòmic militar (Pere Ortega i Jordi Calvo)
2) La privatització de la guerra (Tica Font i Teresa Fortuny)
3) El nou paradigma de Seguretat Nacional. La homeland Security (Gemma Galdón i Tomás Gisbert)
4) Les intervencions militars exteriors (Eduardo Melero i Alejandro Pozo)
---