Workshop "Defund the Military – Defend People and the Planet" within the World Peace Congress in Barcelona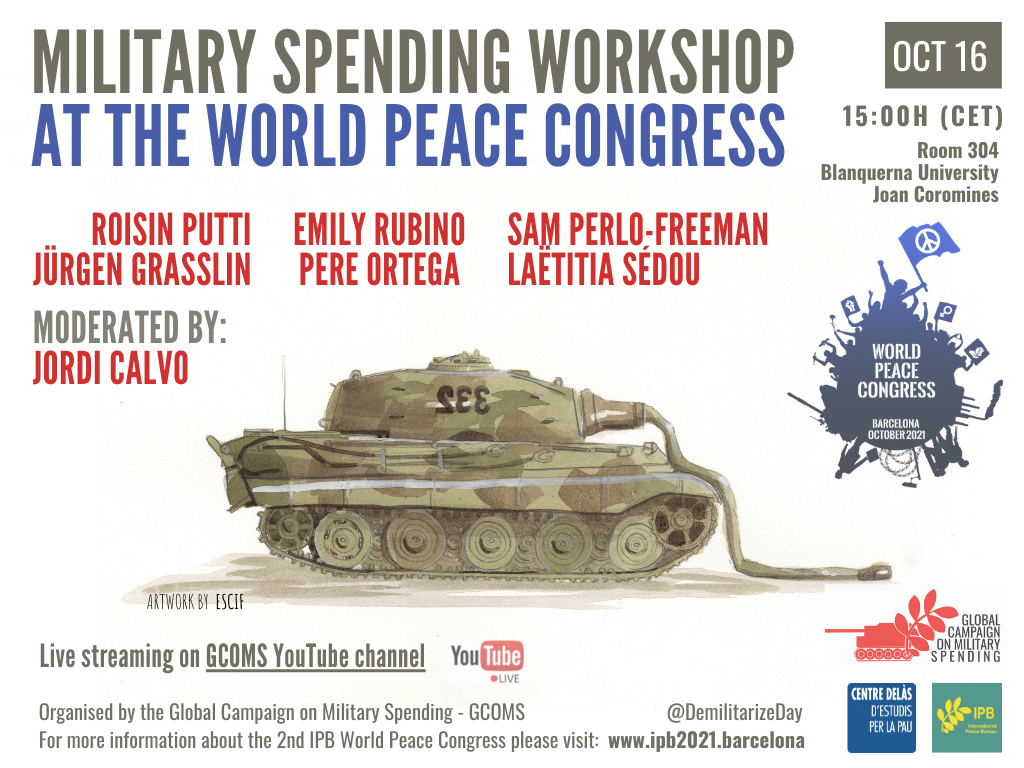 16 October, 2021
---
Where:
Blanquerna - Plaça Joan Coromines de Barcelona (aula 303)
---
Organizes:
Centre Delàs d'Estudis per la Pau, Campanya Global sobre la Despesa Militar (GCOMS), International Peace Bureau
---
Type of event:
Talks
---
On Saturday 16 October, as part of the World Peace Congress organized by the IPB and ICIP in collaboration with the Delàs Center for Peace Studies, we are organizing a workshop on military spending, which will be moderated by the coordinator of the Center Delàs, Jordi Calvo, and for which we have Pere Ortega as speaker.
The workshop is part of the second round of workshops offered by the Congress in its program, between 15:00 and 17:00.
To register for the Congress and consult the full program, visit its website: https://www.ipb2021.barcelona/
You can also follow the workshop through the Youtube channel of the Global Campaign on Military Spending (GCOMS): https://youtu.be/iwOV11gByyg
Moderator: Jordi Calvo – Centre Delàs & IPB
Speakers:
Sam Perlo-Freeman – Campaign Against the Arms Trade (CAAT)
Global military expenditure, trends and justifications
Roisin Putti – Nonviolence Canada
Report: 'In Search of Enemies – The governments holding disarmament hostage'
Emily Rubino – Peace Action NYS
The Pentagon Budget and U.S. campaigning to move the money.
Laetitia Sedou – European Network Against the Arms Trade (ENAAT) –
Militarization of the EU
Jürgen Grasslin – RüstungsInformationsBüro & Stoppt den Waffenhandel
Military spending and arms exports, with a focus on Germany
Pere Ortega – Centre Delàs d'Estudis per la Pau (with interpreter)
Military and defence expenditure, with a focus on Spain
---